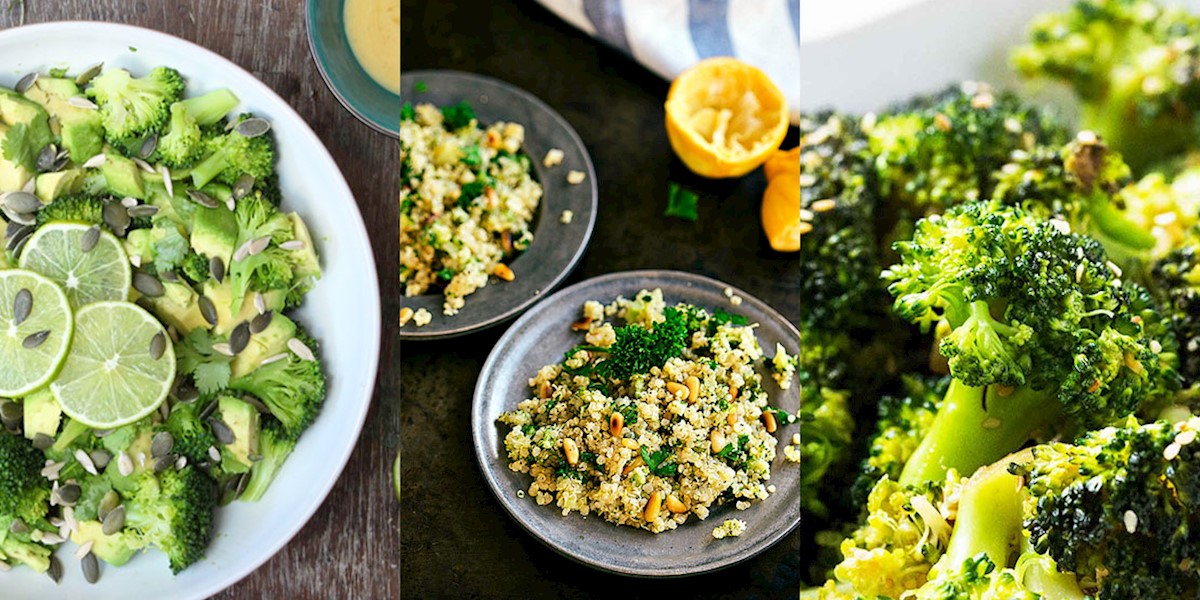 Broccoli is the ever-present vegetable; it is the go-to veg for many Brits and for a long time has been overcooked, neglected and pushed around the plate. Broccoli (if cooked correctly) is the source of many vitamins and has anti-inflammatory benefits, so here are three interesting ways to cook broccoli that will bring it back to life!
Broccoli Avocado Lime Salad (recipe from Deliciously Ella online) 
INGREDIENTS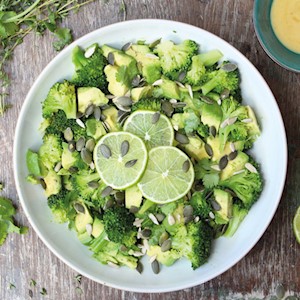 Serves 4
3 ripe avocados
1 1/2 broccoli head
1 handful of fresh coriander (15 g)
For the dressing
Juice of 3 limes (about 30 ml juice)
2 tbsp of tahini
3 tsp of olive oil
2 tsp of tamari (gluten free soy sauce)
2 tsp of honey or pure maple syrup
A sprinkling of salt
METHOD
Slice the broccoli into small, bite-sized pieces and steam them for about 7 minutes, until cooked but a little crunchy. Place to one side to cool.
Slice the avocados in half, peel their skin away and remove their stones. Then slice the flesh into small cubes.
Chop the coriander into tiny pieces and mix with the avocado and broccoli in a salad bowl. Then mix the salad dressing together by simply squeezing the limes then stirring everything together in a mug, once mixed pour it over the salad and then enjoy!
Serve with our Linda McCartney's Vegetarian Country Pie for a hearty supper.
Pine Nut Broccoli Quinoa (recipe from Chelsea's Messy Apron)
INGREDIENTS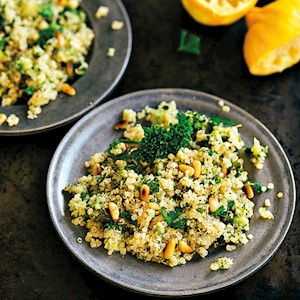 2 tbp olive oil separated
1 tsp minced garlic
1/4 cup yellow onion
1 cup quinoa
2 cups vegetable stock
1 and 1/2 cups broccoli chopped
1/4 cup parsley finely chopped
1/3 cup pine nuts
1 tsp lemon zest
3 tsp fresh lemon juice
Salt and pepper
METHOD
In a pot over medium low heat, add 1 tablespoon olive oil, the minced garlic, and the onion. Stir constantly until the onion is tender and garlic is fragrant.
Rinse the quinoa in a fine mesh strainer. (This removes the quinoa's natural coating called saponin which can make it taste bitter.)
Add in the quinoa and chicken broth. Stir and bring to a boil.
Reduce the heat to low, cover, and turn to low. Allow to cook for about 7 minutes and then stir again.
Spread the finely chopped broccoli (Remove all of the stems and chop into very small pieces like picture shown above.) evenly on top of the cooking quinoa and chicken broth.
Don't stir in the broccoli but leaving it on top will lightly steam it. Return the cover and cook until the quinoa has absorbed all of the broth and the broccoli has been steamed.
Stir everything together and remove from the heat.
Add in the finely chopped parsley, the fresh lemon zest, the fresh lemon juice, and salt and pepper to taste.
Stir in the pine nuts. If desired (highly recommended) lightly toast the pine nuts by placing them in the bottom of the pan you used to cook the quinoa (quickly rinse and dry) over medium heat. No oil is needed. Leave in one layer on the bottom of the pan and stir frequently watching until the pine nuts become lightly browned. Watch these carefully as they burn easily.
Serve with our Linda McCartney's Vegetarian Mushroom & Spinach Burgers.
Broccoli Stir Fry with Ginger and Sesame (recipe from Simply recipes)
INGREDIENTS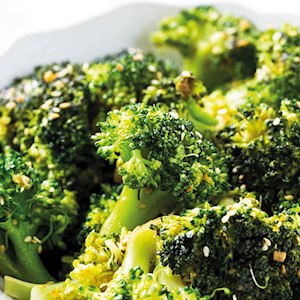 1 tbsp sesame seeds
1/2 cup chicken or vegetable stock (use vegetable stock for vegan option)
1 tbsp soy sauce (use gluten-free soy sauce for gluten-free option)
1 tbsp dark sesame oil
Peanut, canola, or grapeseed oil, or some other high smoke-point cooking oil
1 lb broccoli florets, rinsed, patted dry, cut into bite-sized pieces
2 cloves of garlic, minced (about 1 tbsp)
1 tbsp minced fresh ginger
METHOD
Toast the sesame seeds: Toast the sesame seeds by first heating a small, stick-free sauté pan on medium high heat. Add the sesame seeds and jiggle the pan so they spread out in a single layer. Let them cook until lightly browned, stirring occasionally, about 2-3 minutes. Do not walk away from them while cooking, as once they start to brown they can easily burn. Once lightly toasted remove from heat and put into a small bowl.
Mix stock, soy sauce, sesame oil: Mix the stock, soy sauce, and dark sesame oil together in a small bowl, set aside.
Sauté the broccoli, garlic, ginger: Heat 1 tbsp of peanut oil (or canola or other high smoke point oil) in a large, cover-able sauté pan on medium high heat. Add the broccoli florets, stir to coat the florets with the oil, Sauté for about a minute.
Add the stock soy mixture and simmer: Add the stock soy sesame oil mixture to the pan. Bring to a simmer, reduce the heat and cover. Let cook for 2-3 minutes, until broccoli is still firm, but can be pierced with a fork. Remove from heat.
Great paired with our Linda McCartney's Vegetarian Shredded Hoisin Duck.