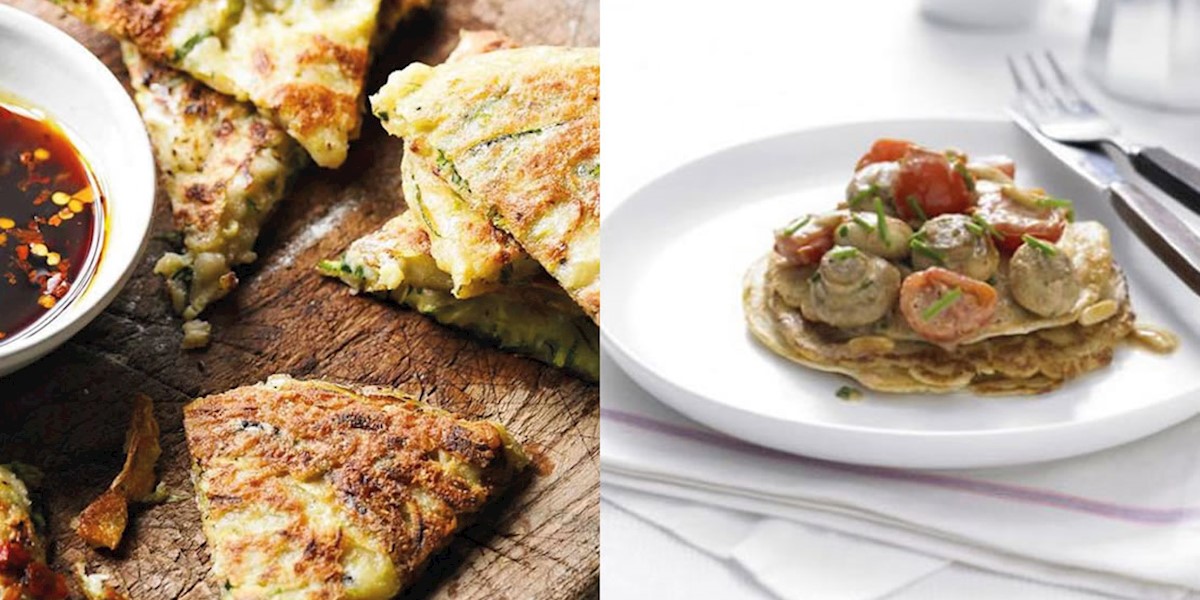 People typically make sweet pancakes on Shrove Tuesday, however if you are trying to cut down on sugar, want to eat more vegetables or simply want to try something different, here are two recipes for tasty savoury pancakes that you won't need to feel guilty about!
Vegan Tomato & Mushroom Pancakes (recipe from BBC Good Food online):
Ingredients:
140 g white self-raising flour
1 tsp soyaflour
400 ml soya milk
Vegetable oil, for frying
2 tbsp vegetable oil
250 g button mushrooms
250 g cherry tomatoes, halved
2 tbsp soya cream or soya milk
Large handful pine nuts
Snipped chives, to serve
Method
Sift the flours and a pinch of salt into a blender. Add the soya milk and blend to make a smooth batter.
Heat a little oil in a medium non-stick frying pan until very hot. Pour about 3 tbsp of the batter into the pan and cook over a medium heat until bubbles appear on the surface of the pancake. Flip the pancake over with a palette knife and cook the other side until golden brown. Repeat with the remaining batter, keeping the cooked pancakes warm as you go. You will make about 8.
For the topping, heat the oil in a frying pan. Cook the mushrooms until tender, add the tomatoes and cook for a couple of minutes. Pour in the soya cream or milk and pine nuts, then gently cook until combined. Divide the pancakes between 2 plates, then spoon over the tomatoes and mushrooms. Scatter with chives.
Korean Courgette Pancakes with Dipping Sauce (recipe from Olive Magazine)
If you are bored of making traditional pancakes and fancy being a little more creative in the kitchen this year then why not try out these delicious looking Korean Courgette Pancakes with Dipping Sauce? The ideal canapé or Pancake Day treat, your guests are sure to be impressed.
Ingredients:
250 g plain flour
1 egg
500 g courgettes, julienned or coarsely grated
3 spring onions, finely sliced 
Dipping Sauce:
4 tbsp soy sauce
4 tbsp rice wine vinegar
2 tsp sesame oil
1 garlic clove, crushed
1 pinch of chilli flakes
Method:
 Put the flour in a bowl and whisk in the egg with 200-250ml water and a good pinch of salt to make a thick batter. Leave it to rest for 10 minutes.
Make the dipping sauce by mixing all the ingredients together.
Add the courgettes plus 1 tbsp oil and some freshly ground black pepper to the batter and mix thoroughly. Heat a little oil in a large frying pan (or two smaller ones at once) and, when it's very hot, ladle in enough mixture to cover the base completely. Cook until the underneath is set, then slide it out onto a plate and invert it back into the pan to cook the other side. Slide out the cooked pancake and keep warm in a low oven while you make using an average-size frying pan, you should end up with 4 thick pancakes.
Cut the pancakes into wedges and serve with the dipping sauce.