VEGGIES TAKE ROOT IN BRITAIN!
May 20, 2016 15:19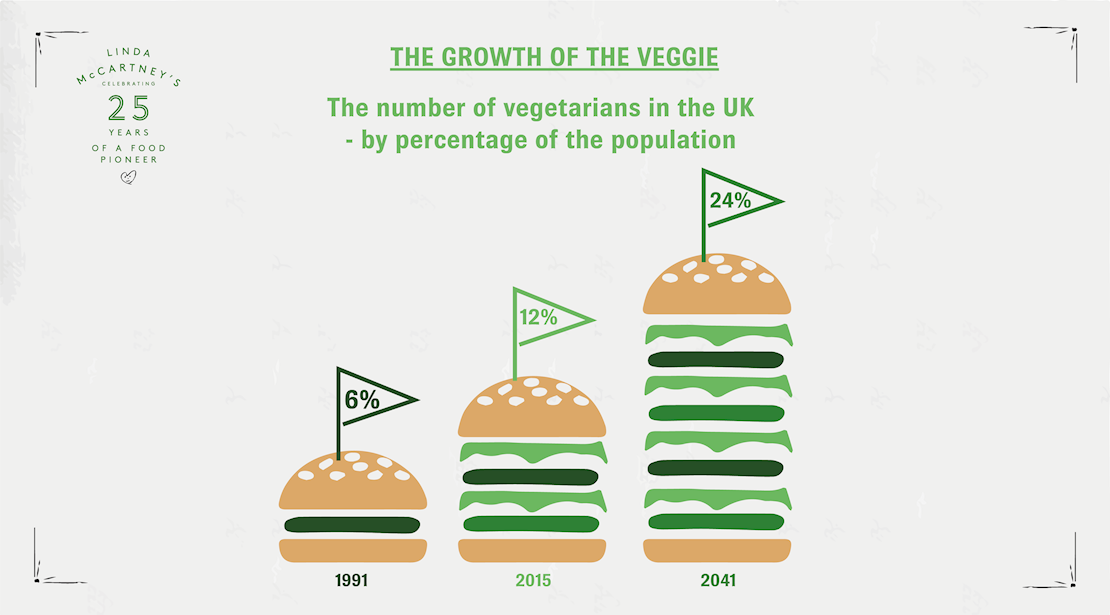 To mark our 25th anniversary of making great quality, delicious tasting vegetarian products we researched all things vegetarian, old and new.
Did you know that over the past 25 years the number of vegetarians in Britain has doubled? And there's even better news, this growth is to set to increase further with one in four of us becoming vegetarian in the next 25 years. By 2041 most of us Brits will be reducing meat and feeling all the better for it.
We're pretty proud of our country's approach to meat free eating.  Our research also showed that six out of ten new vegetarian product launches in Europe were actually based in the UK.  We know Linda would have been thrilled to see so many more options available for vegetarians as back when we first launched in 1991, choice was pretty limited.
Paul McCartney says, "Linda made it happen and I along with Stella, Mary and the rest of our family love being involved today in her legacy, we are incredibly proud of the brand she created. We truly believe that vegetarianism is the way for us all to eat and live, now and in the future. The whole world is far more conscious about their health and their footprint, gradually we're making better decisions, we have come a long way however, there is much more to do and we invite everyone to join us for the next 25 years and beyond - viva veggie!"
Check out the research stats below:
Over the past 25 years the number of vegetarians in Britain has doubled3 with a vote on "yes to veggie" status that equates to filling the 02Arena 217 times over. In percentage terms, this translates to an increase from 6% to 12% of the total population3
This growth is set to soar to one in four Brits in 25 years time4 (2041). the equivalent of the population of the entire South East

The biggest influencers

of this groundswell in vegetarianism are 'Millennials' (a fifth of the UK population, 20% of whom are vegetarian) and the 'Baby Boomers'
The future trend in meat free will see the UK turn to plant-based proteins in greater volume with growth in demand for natural, simple and unprocessed convenient solutions via pea protein, pulses and edamame.5

Today 59% of Brits are looking to reduce their meat intake

6

, with the majority citing health reasons as their greatest motivation7. This is followed by those looking to save cash, animal welfare, food safety concerns and environmental factors7

Meanwhile, the decline in red meat consumption per capita fell by 7% over the past 25 years

8

, with sharp drops reported over the past year in volumes of Pork (-9.4%), Lamb (-6.6%), Bacon (-4.9%) and Beef & Veal (-1.4%)9. The decline in meat consumption is felt in every developed nation across the globe2
Such is the magnitude of the 'veggie pound'; the vegetarian market has almost quadrupled over the past 25 years. Today worth £820million, in 25 years from today it is set to soar to £2.38billion. A growth rate of 11 times greater than 199110

Britain leads the way in meat free thinking

with 6 out of 10 new product launches in Europe taking place in the UK11
What does vegetarian eating look like 25 years in the future? Replicating 'meaty', cheesy and creamy flavours as well as textures will continues to fill the 'hole in the plate' where the pork chop once sat. The movement towards plant-based protein will grow in high volume as the consumer demand natural, unprocessed and convenient meal solutions and snacking furthers with high visibility and experience of the primary product.12
Driving this trend, One fifth of 'Millennials', are embracing vegetarian eating whole-heartedly. This generation, born between 1982 and 1999, make up 20% of the total population and have grown up hearing about healthy diets, climate change, declining natural resources and sustainability. Such is the nature of this group the likelihood of a transient stay vegetarian spell is greatly reduced.
As those who grew up with Linda McCartney, the 'Baby Boomers' are identified as an equally important driver. This is both in terms of numbers - representing nearly one third of the population today and set to rise to in excess of 38% in 25 years - as well as motivation and needs. "When you turn 60, you wish to change your diet because you realise that exercise and food underpin your performance and your appearance" – Professor David Hughes, Professor of Food Marketing, Imperial College, London.
1 - New Nutrition Business
2 - Professor David Hughes, Professor of Food Marketing, Imperial College, London
3 - Vegetarian Society, TNS (The Grocer), Defra (Department of Environment, Food & Rural Affairs)
4 - Vegetarian Society, TNS (The Grocer), Defra (Department of Environment, Food & Rural Affairs)
5 – New Nutrition Business
6 - Hain Daniels Quant Research 2014 – Conducted by Consumer Link
7 - NatCen Social Research
8 - Defra (Department of Environment, Food & Rural Affairs)
9 - The Grocer
10 - New Nutrition Business
11 - GNPD Mintel
12 – New Nutrition Business