Vegetarian Valentine's recipe
February 12, 2018 14:00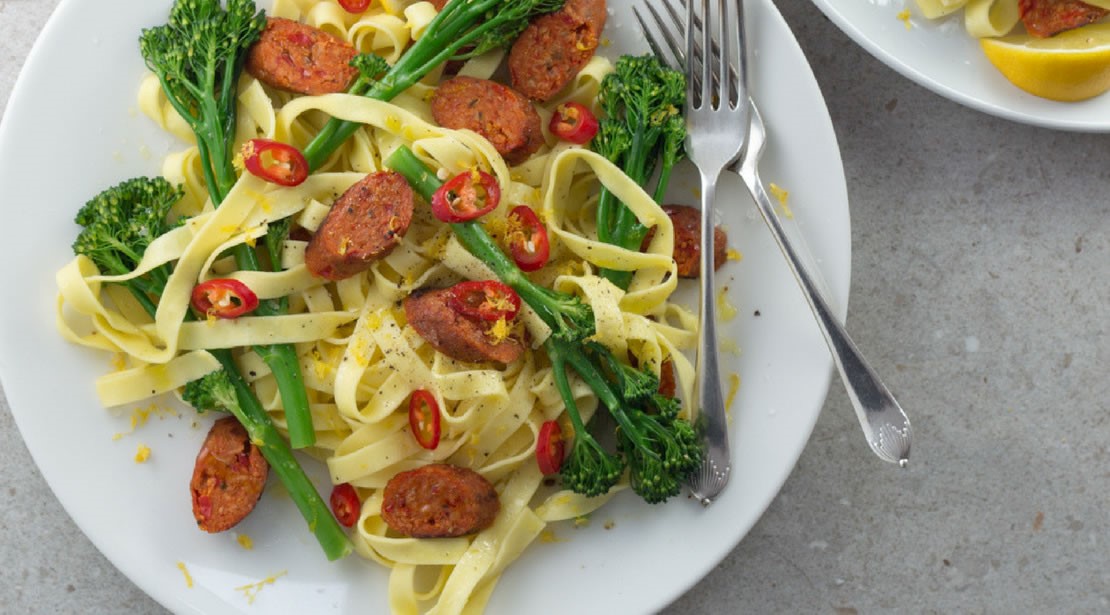 Treat your loved one this February 14th with a super simple, yet delicious meat-free meal for two.
Linda McCartney's Valentine's Pasta with Vegetarian Chorizo Sausages, Tenderstem Broccoli, Lemon and Chilli
Serves 2
Ingredients
4 Linda McCartney's Vegetarian Chorizo & Red Pepper Sausages
400g fresh pasta – for vegan friendly version, ensure that no egg is listed in the ingredients
100g Tenderstem broccoli
4 tbsp olive oil
1 red chilli, finely sliced
1/2 lemon, zest and juice
sea salt and freshly ground black pepper, to taste
Directions
Put a baking tray in the oven to heat and preheat the oven to 200℃. Cook for about 15 minutes, turning once so the sausages cook evenly. When the sausages are ready, slice into pieces on a diagonal.
While the sausages are cooking, bring a large pan of water to the boil and cook the pasta according to the instructions until just tender. For the last few minutes, add the Tenderstem broccoli and cook until bright green and still with a little crunch.
Drain the pasta and toss with the olive oil. Scatter over the veggie sausage pieces, red chillies, a little sea salt and lots of freshly ground black pepper. Zest the lemon over the pasta and cut the rest of the lemon into 4 wedges.
Serve the pasta with the lemon wedges on the side to squeeze over.