Vegetarian hoisin duck spring rolls
June 26, 2017 10:00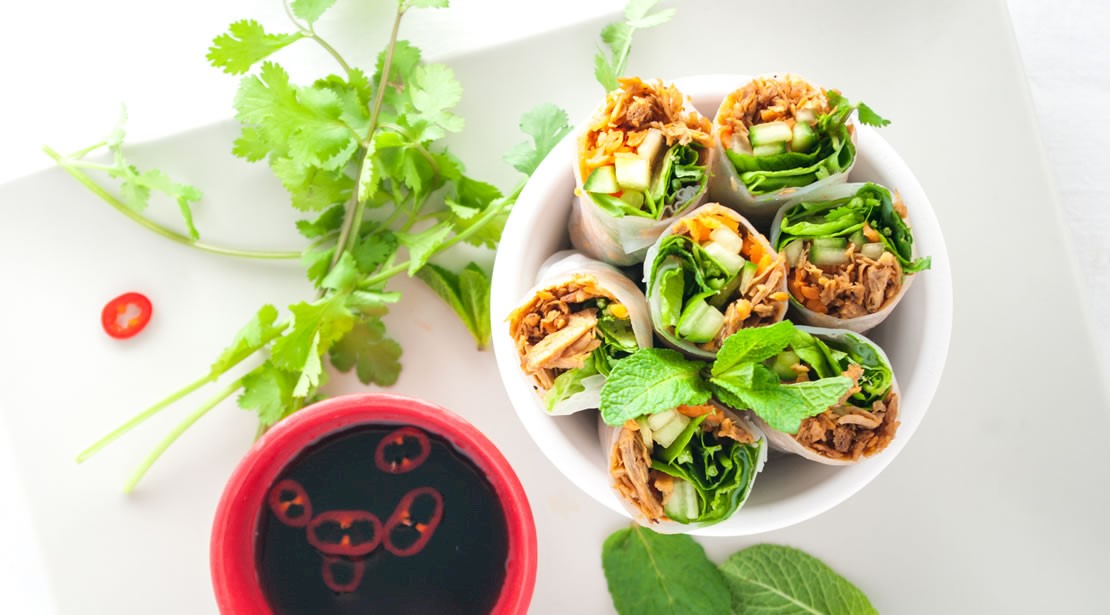 Fancy something healthy and summery? Our fresh spring rolls are stuffed with Vegetarian Hoisin Duck (crispy and soft all at the same time!) with shredded carrot, cucumber, fresh herbs and chilli.
Vegetarian hoisin duck spring rolls
Serves 4
1 packet of Linda McCartney's Vegetarian Shredded Hoisin Duck, frozen
20 fresh spring roll wrappers
3 carrots, peeled and grated
1 cucumber, cut into matchsticks
1 head soft lettuce, cut into strips
2 big handfuls fresh herb leaves (coriander, mint and basil are all great)
100ml soy sauce
1 hot red chilli, thinly sliced
Heat 1 tablespoon of oil in a large pan over medium heat until hot. Add the frozen duck and cook, stirring frequently, until very lightly browned and a little bit crispy, about 7-8 minutes, adding 50ml of water halfway through.
Fill a big, flat bowl with water (big enough to hold the wrappers when flat). Working one at a time, dip a wrapper in the water and soak for 10 seconds until soft and pliable. Lay the wrapper on a clean board or table, smoothing it mostly flat.
Lay about 2 tablespoons of duck in the middle of the wrapper, leaving a gap all the way around. Layer 1 tablespoon grated carrot, 4-5 matchsticks of cucumber, a few strips of lettuce and a few herb leaves. Fold the sides over the filling and then wrap up the spring roll. Repeat with the rest of the wrappers.
Mix the soy sauce with the sliced chilli and serve for dipping.