Vegetarian Haggis Recipe
January 25, 2018 07:00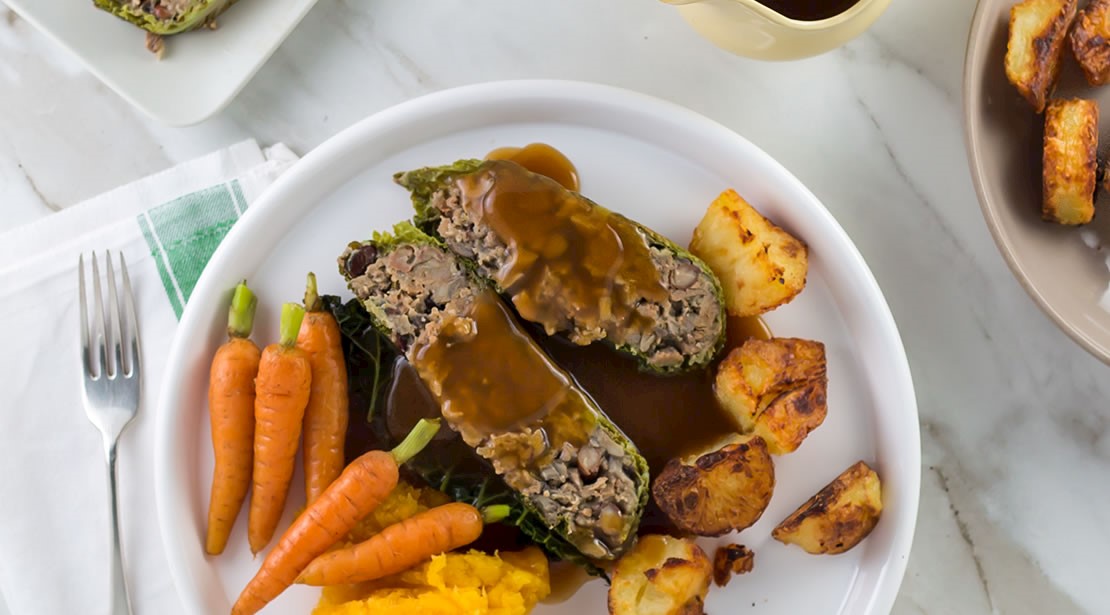 Keep everyone happy this Burns Night with our veggie haggis; Linda McCartney veggie burgers mixed with beans, mushrooms and oats, baked into a sliceable loaf. You can bake the haggis wrapped in cabbage leaves for decoration, or just spoon the mixture into a baking dish for easy cooking. This dish can also easily be made vegan – just swap the egg for a flax egg.
Serves 6-8
1 tbsp oil
2 large banana shallots, finely chopped
3 cloves garlic, crushed
1 pack/250g brown mushrooms, finely chopped
1 tin mixed beans, drained and well rinsed
1 pack Linda McCartney's Vegetarian 1/4lb Burgers, defrosted
1 tsp ground spice (cinnamon/allspice/black pepper/nutmeg)
3 tbsp chopped herbs (rosemary/thyme/sage)
300ml vegetable stock
70g oats
soy sauce (or salt), to taste
1 egg (substitute flax egg for vegan)
8 Savoy cabbage leaves
Heat a large pan over medium heat until hot and add the oil and shallots. Cook over medium-low heat until soft, then add the crushed garlic and cook until fragrant and softened. Add the chopped mushrooms and 1/2 tsp salt and cook until well reduced but still moist, about 10 minutes.
Reduce the heat to low, add the beans, crumble in the veggie burgers and stir to combine. Add the spices and herbs and stir again. Pour over the vegetable stock, bring to the boil and simmer for a few minutes, stirring occasionally.
Stir in the oats and cook until thickened and all of the stock has been absorbed. Season to taste with salt or soy sauce. Remove from the heat and set aside to cool a little. Stir in the egg (or flax egg).
If you are using the cabbage decoration:
Preheat the oven to 180℃. Put a large pan of water on to boil. Add the cabbage leaves and cook for 4 minutes. Drain and cool under running water. Trim off the central core of each leaf, so it sits as flat as possible. Pat the leaves dry.
Arrange the leaves in a lightly greased baking dish, spoon in the mixture and fold the leaves over so everything is completely wrapped. Wrap in tinfoil and bake for 40-50 minutes. Turn out onto a serving platter, slice and serve.
If cooking without the cabbage:
Preheat the oven to 180℃. Lightly grease a loaf tin or a baking dish, spoon in the mixture and wrap in tin foil. Bake for 40-50 minutes. Turn out onto a serving platter, slice and serve.