Spring: Seasonal fruit and vegetables
April 18, 2018 10:27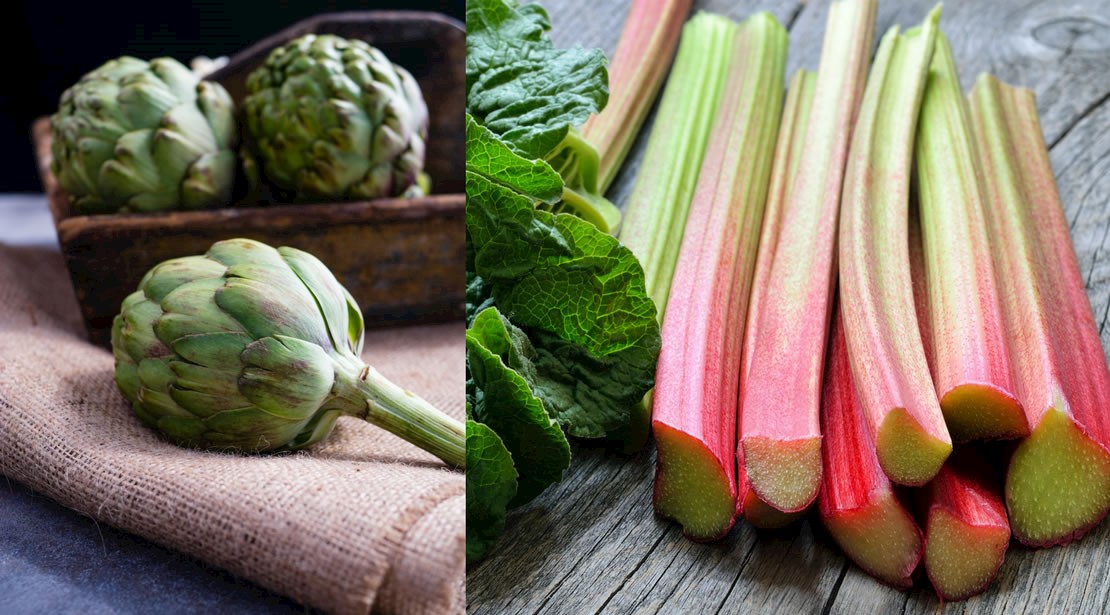 From artichokes to rhubarb, spring marks the start of the season responsible for the growth of some of our favourite fresh fruit and veg. Here's our shortlist on what you should be stocking up on this month.
Asparagus
The UK is famous for its asparagus, with the season officially starting on St. George's Day (23rd April). The taste is described as bright and clean with earthy undertones, and a very mild flavor when the spears are fresh. If you've ever tried asparagus before and it was either bitter or sour, it could be due to the asparagus being overcooked or past its prime.
For best results, boil or steam the spears for a few minutes until just tender or sauté in a hot frying pan. Lovely with a squeeze of lemon juice and a small nob of melted butter.
Purple Broccoli
Purple sprouting broccoli is still going strong this month. Use it in much the same way as you would regular broccoli, steaming or cooking through in a stir-fry. Season lightly for a simple side dish or drizzle with peanut sauce or hollandaise to make purple sprouting broccoli the star of the table!
Artichokes
A real treat this time of year, artichokes are packed with healthy minerals like potassium. Delicious and tender with a slight nutty flavor. To make the most out of this humble vegetable, rub your trimmed artichokes with a little oil and bake for 1 hour. Then dip the leaves and heart in seasoned butter or olive oil. Serve with a dollop of mint and garlic pesto or some fresh spinach.
Jersey Royal New Potatoes
The first new potatoes available in the year, grown on the sunny slopes of the island of Jersey. These delicate, flavourful potatoes are best lightly steamed (no need to peel), but you can also roast them to make a hearty side dish. Serve with other spring veg, like asparagus and watercress for a seasonal feast.
Rhubarb
A British classic grown in Yorkshire, completely in the dark and harvested by candlelight. A good thing to remember is that rhubarb leaves are toxic, due to high levels of oxalic acid. Every serving of rhubarb provides 45% of the daily value in vitamin K, which supports healthy bone growth and can limit neuronal damage in the brain*. Sweeten with sugar or honey to use in desserts, or peel into thin strips and cure in fresh lemon juice for a crunchy addition to salads.
Other veggies that are at their best this season include lettuce, watercress, spinach, radishes and spring onions. Heartier greens are also at their finest, like Savoy cabbage, spring greens and peas – at their freshest and sweetest.
Whether you are buying or growing, we want to see your sensational spring dishes.
Share with us on Instagram, Facebook and Twitter.