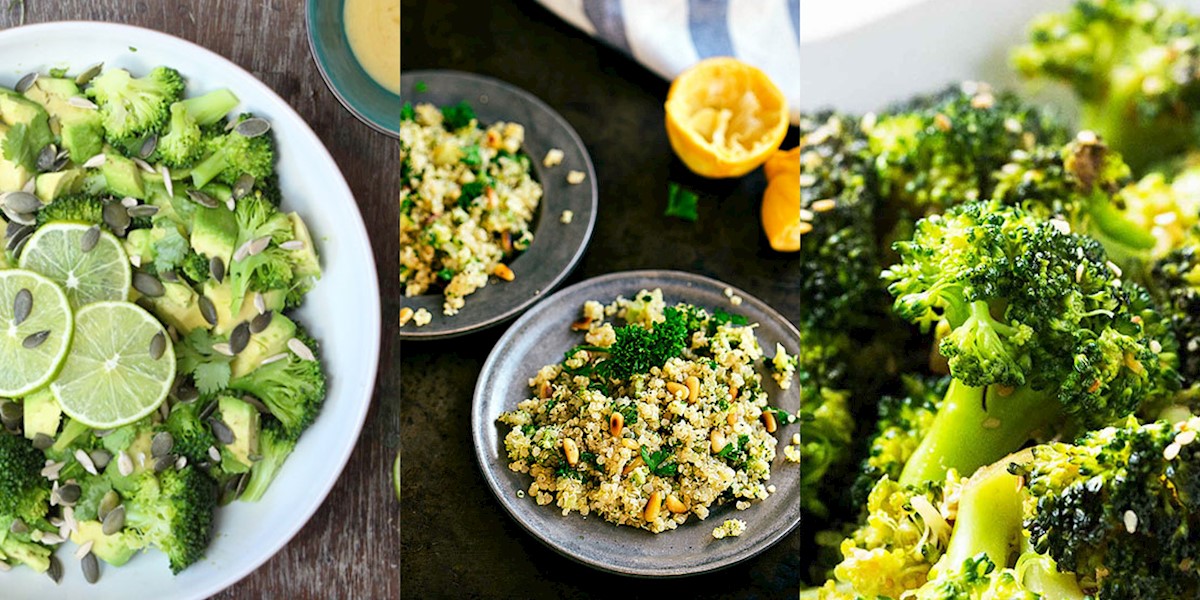 Broccoli is the ever-present vegetable; it is the go-to veg for many Brits and for a long time has been overcooked, neglected and pushed around the plate. Broccoli (if cooked correctly) is the source of many vitamins and has anti-inflammatory benefits, so here are three interesting ways to cook broccoli that will bring it back to life!
Broccoli Avocado Lime Salad (recipe from Deliciously Ella online) 
INGREDIENTS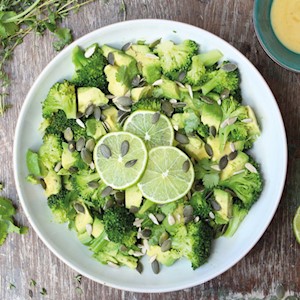 Serves 4
3 ripe avocados
1 1/2 broccoli head
1 handful of fresh coriander (15 g)
For the dressing
Juice of 3 limes (about 30 ml juice)
2 tbsp of tahini
3 tsp of olive oil
2 tsp of tamari (gluten free soy sauce)
2 tsp of honey or pure maple syrup
A sprinkling of salt
METHOD
Slice the broccoli into small, bite-sized pieces and steam them for about 7 minutes, until cooked but a little crunchy. Place to one side to cool.
Slice the avocados in half, peel their skin away and remove their stones. Then slice the flesh into small cubes.
Chop the coriander into tiny pieces and mix with the avocado and broccoli in a salad bowl. Then mix the salad dressing together by simply squeezing the limes then stirring everything together in a mug, once mixed pour it over the salad and then enjoy!
Serve with our Linda McCartney's Vegetarian Country Pie for a hearty supper.
Pine Nut Broccoli Quinoa (recipe from Chelsea's Messy Apron)
INGREDIENTS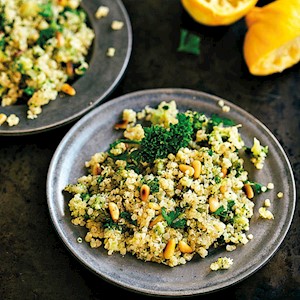 2 tbp olive oil separated
1 tsp minced garlic
1/4 cup yellow onion
1 cup quinoa
2 cups vegetable stock
1 and 1/2 cups broccoli chopped
1/4 cup parsley finely chopped
1/3 cup pine nuts
1 tsp lemon zest
3 tsp fresh lemon juice
Salt and pepper
METHOD
In a pot over medium low heat, add 1 tablespoon olive oil, the minced garlic, and the onion. Stir constantly until the onion is tender and garlic is fragrant.
Rinse the quinoa in a fine mesh strainer. (This removes the quinoa's natural coating called saponin which can make it taste bitter.)
Add in the quinoa and chicken broth. Stir and bring to a boil.
Reduce the heat to low, cover, and turn to low. Allow to cook for about 7 minutes and then stir again.
Spread the finely chopped broccoli (Remove all of the stems and chop into very small pieces like picture shown above.) evenly on top of the cooking quinoa and chicken broth.
Don't stir in the broccoli but leaving it on top will lightly steam it. Return the cover and cook until the quinoa has absorbed all of the broth and the broccoli has been steamed.
Stir everything together and remove from the heat.
Add in the finely chopped parsley, the fresh lemon zest, the fresh lemon juice, and salt and pepper to taste.
Stir in the pine nuts. If desired (highly recommended) lightly toast the pine nuts by placing them in the bottom of the pan you used to cook the quinoa (quickly rinse and dry) over medium heat. No oil is needed. Leave in one layer on the bottom of the pan and stir frequently watching until the pine nuts become lightly browned. Watch these carefully as they burn easily.
Serve with our Linda McCartney's Vegetarian Mushroom & Spinach Burgers.
Broccoli Stir Fry with Ginger and Sesame (recipe from Simply recipes)
INGREDIENTS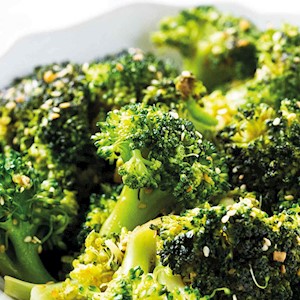 1 tbsp sesame seeds
1/2 cup chicken or vegetable stock (use vegetable stock for vegan option)
1 tbsp soy sauce (use gluten-free soy sauce for gluten-free option)
1 tbsp dark sesame oil
Peanut, canola, or grapeseed oil, or some other high smoke-point cooking oil
1 lb broccoli florets, rinsed, patted dry, cut into bite-sized pieces
2 cloves of garlic, minced (about 1 tbsp)
1 tbsp minced fresh ginger
METHOD
Toast the sesame seeds: Toast the sesame seeds by first heating a small, stick-free sauté pan on medium high heat. Add the sesame seeds and jiggle the pan so they spread out in a single layer. Let them cook until lightly browned, stirring occasionally, about 2-3 minutes. Do not walk away from them while cooking, as once they start to brown they can easily burn. Once lightly toasted remove from heat and put into a small bowl.
Mix stock, soy sauce, sesame oil: Mix the stock, soy sauce, and dark sesame oil together in a small bowl, set aside.
Sauté the broccoli, garlic, ginger: Heat 1 tbsp of peanut oil (or canola or other high smoke point oil) in a large, cover-able sauté pan on medium high heat. Add the broccoli florets, stir to coat the florets with the oil, Sauté for about a minute.
Add the stock soy mixture and simmer: Add the stock soy sesame oil mixture to the pan. Bring to a simmer, reduce the heat and cover. Let cook for 2-3 minutes, until broccoli is still firm, but can be pierced with a fork. Remove from heat.
Great paired with our Linda McCartney's Vegetarian Shredded Hoisin Duck.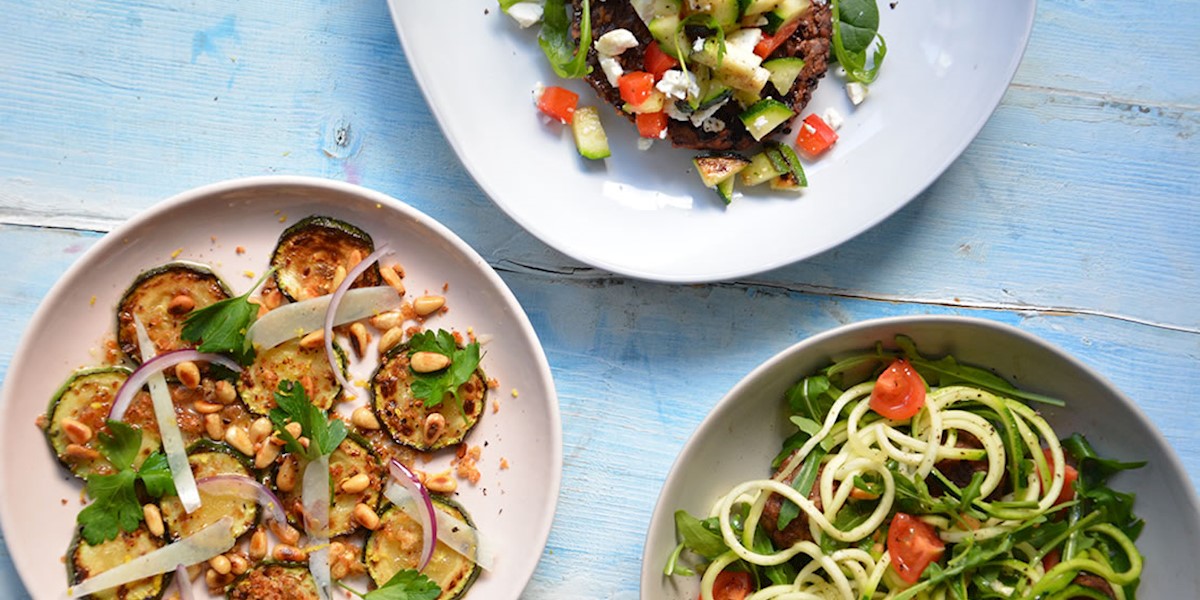 We've collected three easy ways to enjoy one of our favourite vegetables.
Courgetti and Vegetarian Meatballs
This tasty dish is full of goodness and super quick to put together.
Serves 2
Ingredients
4 courgettes
Linda McCartney's Vegetarian Meatballs
10 cherry tomatoes
1 handful of rocket
1 tbsp pine nuts
Olive oil
Juice of half a lemon
Salt and pepper
Method
Place the meatballs in a preheated oven and cook according to packet.
Spiralize the four courgettes and set aside.  (If you don't have a spiralizer create ribbons with a potato peeler and cut into tagliatelle shapes).  Quarter your cherry tomatoes, and rinse the rocket clean.
When the meatballs are ready, mix all the ingredients together and garnish with a drizzle of olive oil and lemon juice.  Season to taste.
Naked Linda McCartney Vegetarian Mozzarella Burger with courgette, feta and tomato relish.
Enjoy our delicious burgers with this flavourful relish.
Serves 2
Ingredients
2 Linda McCartney Vegetarian Mozzarella 1/4 lb Burgers
2 courgettes
2 tomatoes
100g feta, crumbled
Handful of rocket
Handful mixed leaf salad
Method
Cook the burgers in a preheated oven according to the instructions on the back of the pack.
Dice and lightly fry the two courgettes in olive oil until golden, keep an eye on them as they can burn easily.  Once cooked, set aside and pat dry to remove any excess oil.
Dice two tomatoes, place into a bowl and crumble in the feta. Add the courgette once cooled and stir together gently with a spoon.
Once the burger is ready, serve on a plate, with the relish heaped on top and a serving of lettuce on the side.
Grilled courgette, pecorino, red onion, pine nuts and parsley.
A light supper for one, or tasty side salad.
Serves 1
Ingredients
1 courgette
¼ red onion
1 garlic clove
3 tbsp bread crumbs
3 tbsp pine nuts, toasted
Fresh parsley
5 ribbons of hard cheese
Method
Drizzle olive oil into a pan with some salt and pepper and scatter in the breadcrumbs.  Fry until golden, constantly stirring to prevent burning, and set aside.
Chop the courgettes into even slices and arrange flat on a grilling tray covered in tin foil.
Using a garlic crusher, evenly spread one clove over the courgettes slices, drizzle over olive oil and season.  Place the courgette under the grill for 12 minutes or until courgette is golden coloured.
Once the courgette is cooked, remove from the grill and arrange on a plate.  Scatter over the toasted breadcrumbs, pine nuts and red onion slices. Shave ribbons of hard cheese over the courgette and place sprigs of freshly parsley around the plate.
Finish with olive oil and season to taste.
KID'S MEALS
February 5, 2016 17:41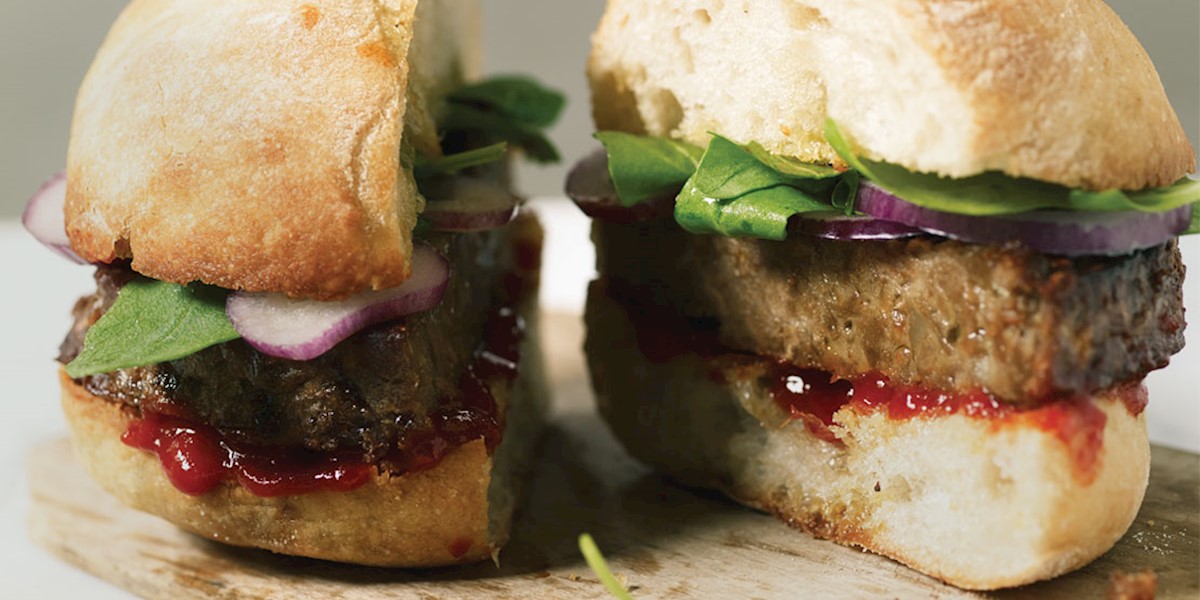 Encouraging kids to eat and try new things has been a challenge faced by parents across generations, with the kitchen table often becoming the stage of a frustrating power struggle. Every child is different of course, so what works for you might not for another parent but we've put together a list of four simple ways to slip some extra veggies into your little one's meals.
To get your kids engaged in what they're eating, try including them in the cooking process and making it fun. We love Mary McCartney's Kid's Curry recipe for just that occasion. Have a look at Our Kitchen tab for the details.
Our Linda McCartney Vegemince makes a delicious Spaghetti Bolognese, a staple favourite for lots of kids. Try blending boiled carrots, broccoli and courgettes into a puree to mix into the tomato sauce to pack in some extra goodness.
If your kids go crazy for burgers, serve our Vegetarian Mushroom and Spinach Burgers with homemade sweet potato fries. Chop your sweet potato into French fry shapes, par boil for two minutes and finish off in a hot oven with olive oil and salt until crispy and cooked through. Sweet potatoes are a source of vitamin c and essential nutrients giving little bodies a whole range of goodness. Check out Jamie Oliver's article about them: www.jamieoliver.com/news-and-features/features/why-sweet-potato-is-healthy/
Cake! Using vegetables such as beetroot and sweet potato in baking is a quirky and delicious approach to stealth vegetable action. If it's something you haven't considered before, try this beetroot and chocolate cake recipe from BBC Good Food, you'll be fighting over the plate with your kids. www.bbcgoodfood.com/recipes/7663/blitzandbake-beetroot-and-chocolate-cake