THREE WAYS TO COOK WITH BEETROOT
January 23, 2017 09:00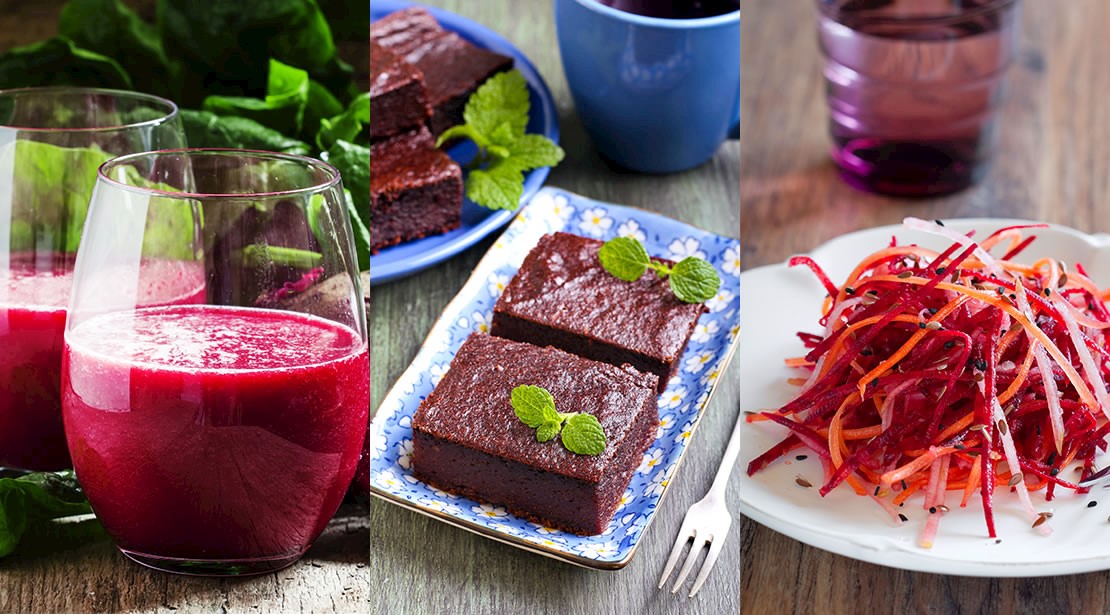 Beetroot is one of the most versatile root vegetables with many ways to prepare it. Join the purple foods trend set for this year and get creative with a few of the suggested recipes below to add a little vibrancy to your meals! 
Beetroot Brownies (Recipe from BBC Good Food)
Slightly less of a guilty pleasure, these brownies have around half the amount of fat compared with your ordinary sugary treat with masses of chocolatey flavour!
Makes 15-20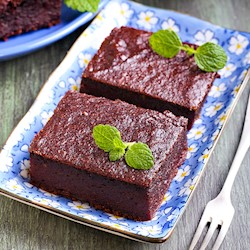 Ingredients
500g whole raw beetroot (400g flesh)
100g unsalted butter
200g bar plain chocolate (70% cocoa)
1 tsp vanilla extract
250g golden caster sugar
3 eggs
100g plain flour
25g cocoa powder
Method
Wear a pair of rubber gloves to stop your hands from staining, then top, tail and peel the beetroot – you'll need about 400g flesh. Roughly chop and put into a large bowl. Add a splash of water, cover with cling film, then microwave on high for 12 mins or until tender.
Heat oven to 180C/160C fan/gas 4. While the beetroot cooks, grease then line a 20 x 30cm baking tray or small roasting tin. Roughly chop the chocolate and cut the butter into cubes. Tip the cooked beetroot into a sieve, drain off any excess liquid, then put into a food processor or blender with the chocolate, butter and vanilla. Whizz until the mix is as smooth as you can get it. The chocolate and butter will melt as you do this.
Put the sugar and eggs into a large bowl, then beat using an electric hand whisk until thick, pale and foamy, about 2 mins. Spoon the beetroot mix into the bowl, then use a large metal spoon to fold it into the whisked eggs. Try to conserve as much air in the mixture as you can. Sift in the flour and cocoa powder, then gently fold these in to make a smooth batter.
Pour batter into the prepared tin and bake for 25 mins or until risen all over, with just the merest quiver under the centre of the crust when you shake the pan. Cool completely in the tin, then cut into squares.
Beetroot Smoothie (Recipe from Blissful Basil)
These fruity drinks taste as vibrant as they look!
Serves 4 cups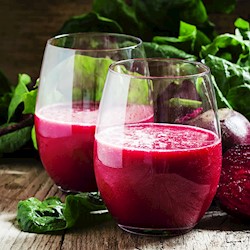 Ingredients
1 cup almond milk
1 frozen banana
1 beetroot, cut into sixths
1 cup strawberries
1 cup blueberries
1 tbsp hemp seeds (optional)
Method
Add all ingredients to a blender, and blend for 2-3 minutes or until smooth.
Serve and enjoy!
Beetroot and carrot salad (Recipe from BBC Good Food)
A very simple salad with a mixture of colour and crunch which keeps your skin clear with anti-oxidant properties.
Serves 4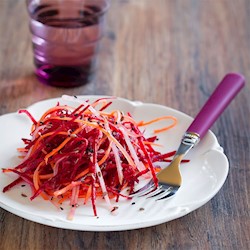 Ingredients
350g carrots
350g raw beetroot
2 shallots, peeled and finely chopped
2 tsp cumin seeds
2 tbsp olive oil
1 tbsp sherry or red wine vinegar
1 small bunch of flat parsley, roughly chopped
Method
Peel and trim the carrots and beetroot, then coarsely grate both. Alternatively, use a food processor fitted with a grating plate. Place the grated vegetables in a bowl, add the shallots.
Heat the cumin seeds in small pan until they are hot and smell pungent. Remove from the heat and scatter over the vegetables. Add the olive oil, vinegar and parsley, then toss well. Leave to marinate for at least 15 mins before serving.