3 PUNCHY WINTER RELISHES TO WARM YOU UP
January 31, 2017 11:51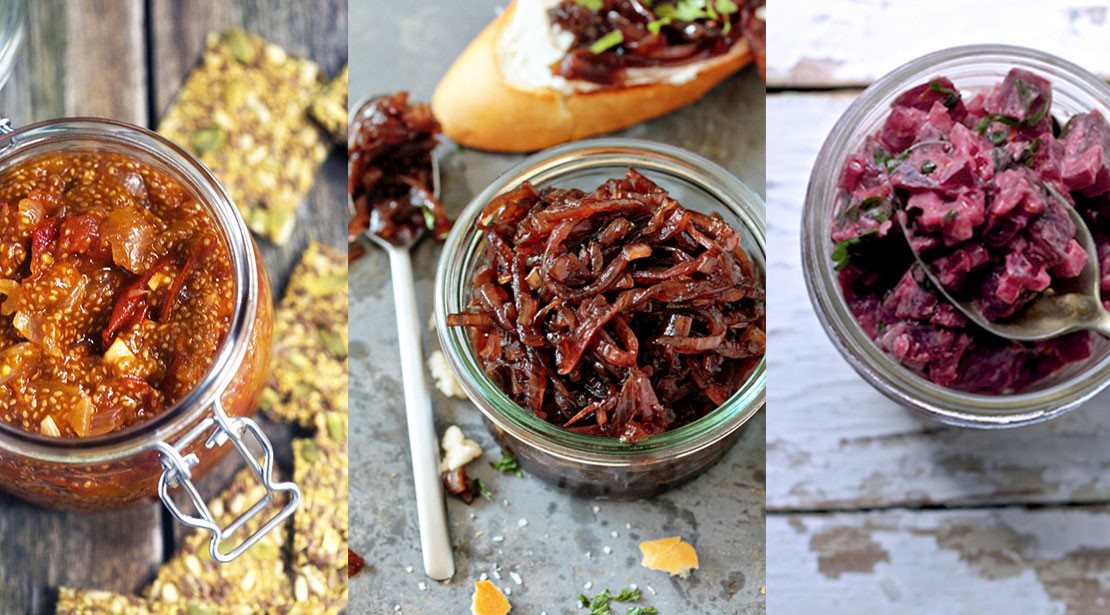 If the New Year is your time of healthy eating and holding back, that doesn't mean your meals have to become boring and lifeless. Here are three easy to make, vibrant relishes that will jazz up your meals and won't have you reaching for unhealthy sauces and condiments!
VEGETARIAN QUARTER POUNDER BURGER
These punchy beetroot and spicy tomato relishes make delicious accompaniments to our selection of vegetarian burgers and will add some colour to your life.
Punchy beetroot burger relish (Recipe from Feeding Boys blog)
Prep time: 5 mins
Makes: 6-8 servings
Ingredients
250g cooked beetroot
1 small red onion
3 tsp horseradish sauce
1 tbsp olive oil
1 lemon, zest only
1 tsp caster sugar
pinch sea salt
2 tbsp chopped flat leaf parsley
Method
Finely dice the cooked beetroot and red onion and toss in a bowl with the remaining ingredients. Check the balance of flavours and adjust accordingly. If you want to turn up the heat, add extra horseradish sauce!
Put into a small bowl or pretty jar and serve alongside freshly grilled burgers.
VEGETARIAN MOZZARELLA BURGER
If your burger is in need of an added kick, why not whip up this delicious spicy tomato relish, the perfect topping for that bit of extra spice!
Spicy tomato relish (Recipe from My Goodness Kitchen)
Ingredients
1 Kilogram vine tomatoes
2 white onions
½ cups chia seeds
1 ½ teaspoons smoked paprika
1 teaspoon celery (ground)
1 teaspoon cayenne pepper
3 cloves garlic
¼ cups red wine vinegar
¼ cups water
3 tablespoons maple syrup
1 pinch sea salt
olive oil
Method
Blitz onion and garlic in a food processor until well chopped.
In a large saucepan (with a lid for later) heat oil and sauté onions and garlic for 1 minute. Add spices and stir.
Add tomatoes, vinegar, sea salt and maple. Stir and add water.
Over low to medium heat, cook for around 10 minutes or until the onion is cooked through. Test for taste, season or sweeten if necessary.
Add chia seeds and stir.
Cook for another 5 minutes before turning off heat and popping the saucepan lid on. Allow to cool before jarring. Store in refrigerator.
VEGETARIAN SAUSAGES
If you prefer your relish inside a hot dog made with our delicious vegetarian sausages, we have the perfect caramelised red onion relish to go with it!
Caramelised onion relish (Recipe from nigella.com)
Ingredients
1 large onion (halved, thinly sliced)
2 teaspoons brown sugar
2 teaspoons red wine vinegar
1 pinch of salt
black pepper (to taste)
2 teaspoons butter
1 drop oil (mild oil)
Method
Slowly cook the onions with a pinch of salt, in butter and oil until coloured and soft.
Add the sugar and vinegar and continue to cook on a slow heat until sticky and reduced.
Allow to cool and serve.